It's once again Father's Day week and we know how hard it is to shop for us dads, so here are some helpful hints. Some of these tools are for general use and some are for the more specific areas of tool use. In the broad category, think about tool storage. Whether your budget allows for a shop redesign with built-in storage units for specific tools or you are thinking more along the lines of the tool box that is meant for throwing in the trunk before hitting the road. Either way, take a look at what tools he has and go from there. My favorite boxes are the stackable ones that can fasten to each other, but I also cherish a step-stool tool box that my dad gave me before he passed away. Even though its storage space was small, I kept all of my Cub Scout Pinewood Derby tools in it and to this day they still remain there. I was a Cubmaster for years and the step-stool made a nice seat when I was helping the boys with their cars. Now it serves as a nice lightweight step that allows me to change light bulbs and reach other areas that are too high for me to reach unaided, but are not high enough to require me breaking a step ladder out.

Now I didn't intend to segue into this suggestion, but I guess I did anyway. Ladders are good. Lightweight and stable ladders are even better. I am reviewing a Little Giant step-ladder right now, Type 1A Revolution XE and I think it's awesome. The stability of the wide legs add additional safety to this line and the Revolution is lightweight while remaining very sturdy. For more information, check it out,.
One of the most used tools in our collection is the reciprocating saw, and my Milwaukee Sawzall has seen duty on almost every project I have done. Whether it's being used for demolition or for more creative uses like removing roots from the supply lines to the sprinkler system, the Sawzall is just one of the tools that seems to find us coming up with more uses every time we run into a sticky situation. Other companies make recip saws, it's just that my personal preference is Milwaukee. Here is Milwaukee's Sawzall Page.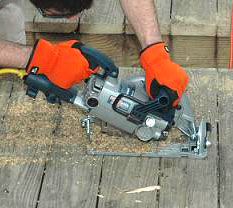 Cordless Nirvana seems to be the mantra with all of the tool companies now.  They do still make corded tools, but I guess the sex appeal for marketers is not there anymore. That being said, a right angle drill, old-school style gave us a lot of fun a few weeks ago. With a 6″ holesaw attached, we found that our Milwaukee Hole Hawg right angle drill could spin us around the floor like a merry go round for tool jocks.  Ok, so maybe the mental image of your dad sweeping the floor as he cuts doughnuts on his next project reeks of a trip to the emergency room when he refuses to let go of the trigger as he approaches critical rpm is not your cup of tea, but, corded tools are still being built and are still being improved.  And if you need endless run time and serious all day power, corded is the answer.  Other tools we reccomend everyone have in the corded variety, are circular saws.  I think every serious DIYer should have one high quality professional model circular saw, either a sidewinder like the Bosch or in the worm drive variety, the Skil was the original and still dominates the category. If your dad has never had a top of the line power tool, he will love the quality of the foot plates and the ability of either of these tools to cut all day, every day and not bind up like the DIY models when cutting thick or hardwood boards.
When old school handsaw meets modern technology you get the Irwin 15″ Universal Handsaw and for $17, it's a bargain.  The Universal cuts as fast as a circular saw and relies on innovative design to tranfer maximum cutting power to the workpiece regardless of your skill level.
For the woodworking dad, there are a great variety of Random Orbital Sanders that do great work.  Brands here are Fein, Festool, Bosch, Milwaukee and Ridgid.  Another idea are saw blades for his miter saw or his table saw. Check and make sure you get the arbor and blade diameter size correct.  One of the products we have found ourselves using more frequently are the Pocket Hole products.  I use the Kreg Master but companies like General Tool also make a version.
Lawn and Garden dads will love anything that makes their tasks easier. One of the coolest product lines we have seen is Stihl's 36 volt system with the battery belt option.  We are testing the hedge trimmer now and frankly we are blown away by the tools ability to cut through large jobs better than our corded hedge trimmers.  Additional tools will become available soon and we can't wait. The belt option takes the weight of the 36 volt battery pack and places it on the belt, which connects to the tool via a power cord. This option is highly reccomended as the tool without the battery weight is more manageable.  This is a Stihl product and it bears no resemblance to DIY cordless products in its performance or quality of manufacturing.  A quality tiller is always appreciated. From landscapers to hobby gardenersm the Troy-Bilt Pro-Line CRT is the answer to a well built and affordable rear-tine tiller. We have been using one for three years and it never fails to perform. From its well made gearcase to its Honda engine, this tiller delivers. The Honda engine starts on the first pull every time and honestly it made me rethink the quality of other lines of engines.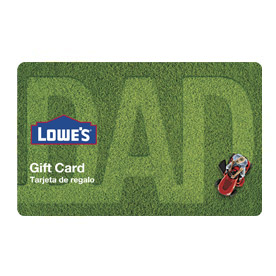 So although this list is by no means complete, hopefully it will help you find something that will be appreciated by your dad.  But don't sweat it if you still are perplexed, you can opt for a gift card from Lowe's and let him select for himself. If he enjoys working on his bike or car,  Kobalt's new and vastly improved tool line soon will be on store shelves.
And coming from a dad of two, just remember real home improvement begins at home with your family, so if your dad lives out of town, that phone call means more than you can know and if you live nearby, your visit  means more than any gift. This dad is going to spend his Sunday with a glass of sweet tea, some Key Lime Pie and the television's remote control  and when the lake traffic dies down in the afternoon, maybe I will pull the girls on their tube or even a quick dash underneath the waterfall on the Wave Runner just to hear them squeal when the icy water finds them. Just another day to fashion a memory for their later years when they have children of their own.